Data for Policy is a premier global forum for interdisciplinary and cross-sector discussions around the impact and potentials of digital revolution in the government sector. Established in 2015, it is an independent non-profit initiative registered in the UK as a Community Interest Company. It is supported by a large number of key stakeholders, including prestigious academic institutions, government departments, international agencies, non-profit institutions, and businesses.
The inaugural conference was 'Policy-Making in the Big Data Era', hosted by Cambridge University. Since then two subsequent conferences have been held: 'Frontiers of Data Science for Government', also hosted by Cambridge University with further support from the European Commission (2016), and 'Government by Algorithm?' hosted by UK Government Data Science Partnership at the BEIS Conference Center [1VS] in London (Westminster, 2017).
Data for Policy CIC – Board of Directors:
Zeynep Engin, University College London – Founder and Chair of the Data for Policy conferences and the Community Interest Company. Zeynep is also the Principal Investigator of GovTech Lab, hosted at UCL, and the lead for Computer Science contributions to the Urban Dynamics Lab, one of UK's five Digital Economy hubs funded by EPSRC.
Jon Crowcroft, University of Cambridge, Alan Turing Institute – Marconi Professor of Communications Systems in the Computer Laboratory of the University of Cambridge and the Chair of the Programme Committee at the Alan Turing Institute. Jon is also the Co-Founder of the Data for Policy conferences.
Anthony Finkelstein, UK Government Office for Science – Chief Scientific Adviser for National Security to HM Government. Anthony's research is based at the Alan Turing Institute and he holds a Chair in Software Systems Engineering at University College London (UCL).
Anil Bharath, Imperial College London – Reader in Image Analysis, and on the Research Board of Imperial's Data Science Institute. In 2008, Dr. Bharath spun out the company Cortexica Vision Systems, which applies simplified models of the behaviour of visual neurons to visual search.
Philip Treleaven, University College London – Director of the UK Centre for Financial Computing and Business Analytics and Professor of Computing at UCL. Philip is principally known for pioneering the use of computational techniques in finance, where his research underpinned much of the early work on automated fraud detection, and led to the launch of the highly successful SearchSpace company.
Supporting Institutions: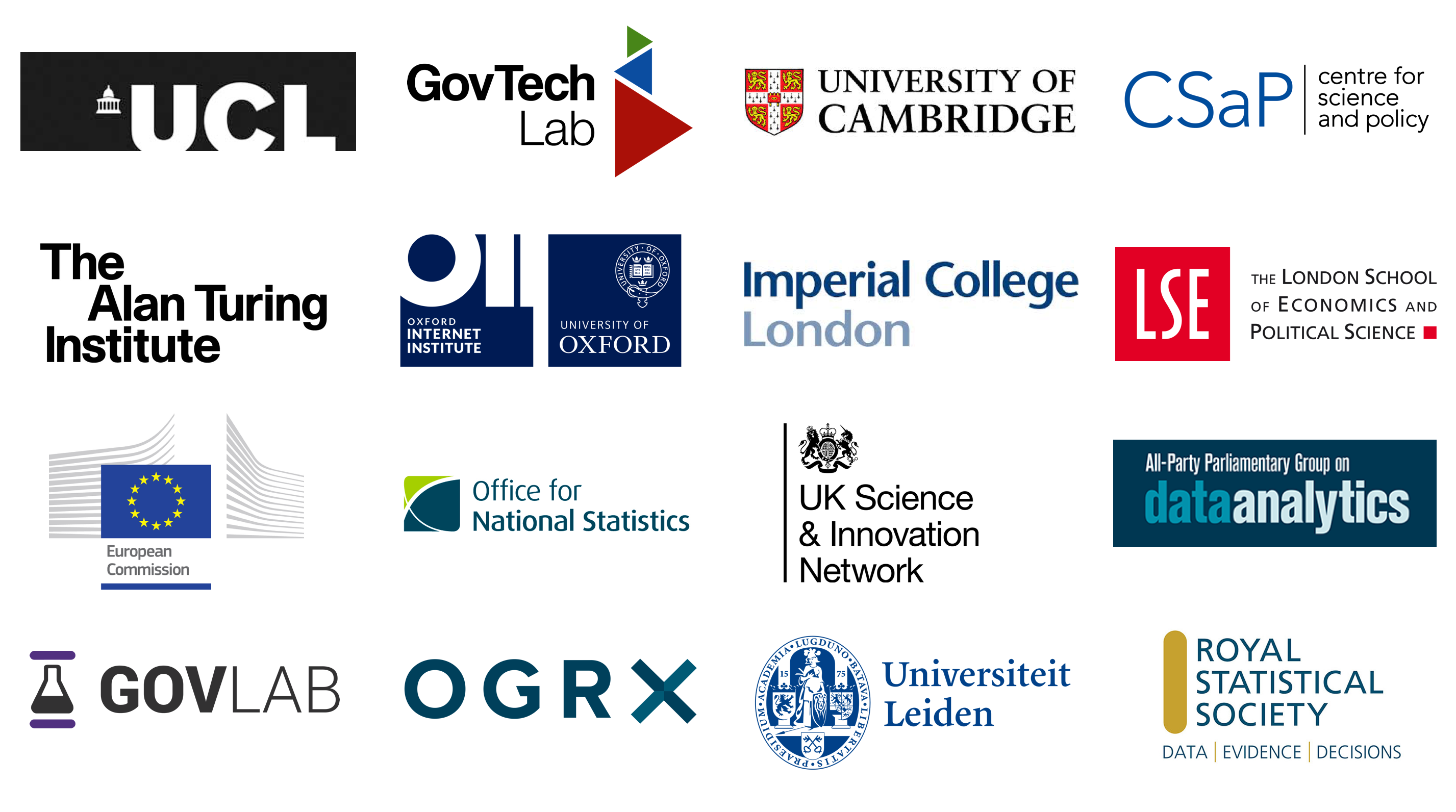 Some Reflections from Past Conferences: 
"I think Data for Policy is a great opportunity for different communities working with data to improve policies and services to come together and discuss. It's very energetic, very active and highly motivating. I really think that the mingling and the networking that I see is excellent." Barbara Ubaldi, Head of the Digital Government and Open Data Unit, OECD (2017)
"Data for Policy is a key part of the discussion we've got to have […] I find it exciting, stimulating and very optimistic that we've managed to bring so many people together. I think it will go from strength to strength." Daniel Zeichner, MP for Cambridge, Chair of the All Party Parliamentary Group on Data Analytics (2017)
"I think we're going to look back and we're going to see the early years of this conference as providing the platform for a broader revolution of not only a new field of study but probably many fields of study. We've traditionally walled off data and policy into two separate areas and what this conference is doing is bringing them together." Nathaniel Raymond, Harvard Humanitarian Initiative, Harvard University (2017)
"This conference is a great opportunity to bring together people from both the data and the policy communities. As it expands it seems to be getting more international in scope. That opportunity to learn about many of the same tools being applied in a lot of different contexts is exactly why data and data science can be so powerful." Emily Garin, Data Strategist, UNICEF (2017)
"Data for Policy provides a unique opportunity to have a dialogue across many disciplinary boundaries, it's a forum in which we can ask questions and move collectively towards solutions, we can share methods. I think it's invaluable." Professor Anthony Finkelstein, Chief Scientific Advisor for National Security to the UK Government (2016)
"The policymakers need to hear what can and cannot be done by the technologists and the technologists need to hear what the concerns of the policymakers are. This is the beginning of the dialogue [… to try to] cooperate and move together with all reasonable speed to protect both the subjects of Big Data analysis and the ability to use this data to better inform policy and government." Professor Jim Waldo, Chief Technology Officer, Harvard University (2016)
"From a glance down all of the attendee list, they are most of the key organisations you would expect from this sort of event – right across civil society organisations, academic institutions, and also government institutions […]"  Paul Meller, Head of Data Resources, Economic and Social Research Council (ESRC) (2015)
Support our work: 
Data for Policy is a fully independent not-for-profit initiative relying on funds generated through events and projects. We also welcome donations – so if you like our work and want to support us, please consider donating directly via Bank Transfer to:
Data for Policy
National Westminster Bank (NatWest)
Account Number: 28066901
Sort Code: 56-00-31
and for international transfers
IBAN: GB51NWBK56003128066901
BIC: NWBKGB2L
or via PayPal using the button below
We are grateful to all who support us.
Kind regards,
Data for Policy Team